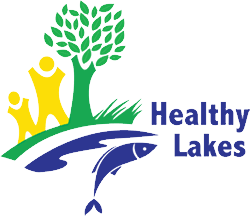 Nebagamon's Healthy Lakes Initiative (NHLI)
The Healthy Lakes Initiative program, initiated by the Wisconsin DNR, is dedicated primarily towards reducing and eliminating harmful chemicals and biomass runoff into our lakes. Stormwater runoff from driveways, roofs and lawns all may contribute to lake contamination. Solutions to minimize such runoff include storm water diversion ditches, rock pits or trenches to capture and infiltrate water into the ground, rain gardens and shoreline vegetation. The "Fish Sticks" projects also provide feeding, breeding and nesting areas for all sorts of native critters - including walleye and song birds –and prevent bank erosion, protecting your lakeshore and enhancing water quality. More info from the DNR can be found at https://healthylakeswi.com
We are working on a grant application for another round of funding and would love to include your projects. Call our volunteer engineer for a free evaluation to consider possibilities, Al Yoshimoto at 715-817-0439. And installation is easy too. Tom Maas, our volunteer contractor has compiled a local resource list of help for you.
Locally, 21 of our lakeshore properties have, and are participating in the, runoff mitigation in the first three grants rounds! Many of our neighbors have participated in multiple projects on their sites and so have been eligible for thousands of grant dollars. The DNR typically grants 75% of an individual project's cost and in addition for the NHLI your Lake Association provides an additional 15%. You provide 10% but that can be entirely made up from your labor on the project to get to zero out-of-pocket cost.
See What Your Neighbors Have Been Doing
DNR Grant One, Expiring 12/31/17 (extended to 12/31/18)
DNR Grant Two, Expiring 12/31/18 (extended to 12/31/19)
DNR Grant Three, Expiring 12/31/19
DNR Grant One, Expiring 12/31/17 (extended to 12/31/18)
| | |
| --- | --- |
| Tom Maas | Native Plantings |
| Paul Takkunen | Native Plantings |
| Phil Takkunen | Rock Infiltration (catch basin) & Rain Gardens |
| Jane Dolter | Native Plantings |
| Dan Takkunen | Native Plantings & Rock Inliltration |
| Alan Yoshimoto | Native Plantings & Stormwater diversion |
| John Salmela | Stormwater Diversions (2) and Soak-away-pits (2) |
DNR Grant Two, Expiring 12/31/18 (extended to 12/31/19)
DNR Grant Three, Expiring 12/31/19
Available Resources for Healthy Lakes
Allison Construction: (Mike Allison) 1-888-542-5561 asphalt paving, tree trimming, landscaping
Amity Creek Landscaping: (Duluth, MN) 218-525-6766 Landscaping including design
Brad's Mini Digger: (Brad Greely) 715-374-2436 Cell 715-817-3577 Stump removal, trenching, ditching
Colby Logging & Dirt Work: (Roger Colby) 715-363-2421 Hauling rock, sand, gravel, screened top soil, rotten manure; dozer, backhoe and grader available
D.V. Olson Construction: (Dave Olson) 715-817-3206 remodeling, landscaping, concrete, skid loader services
Dragonfly Gardens: (Amery, WI): 715-268-7660 (Rob and Sheryl Bersick) native plants
Harv's Tree Service: 715-374-2517 clearing land, tree trimming/removal, landscaping
J&C Lawncare: (Justin Alexson) 218-391-0813 weed control, lawn fertilization, aeration, lawn over seeding, mosquito control. Free Estimates
Lake Effect Construction: (Danny) 218-464-3965. Loads of rocks for infiltration trenches/pits. Also provides general landscaping, permaculture and driveway rock.
Lakeside Landscape: (Collin Witta) 218-343-9508 Site prep, planting, some design work
Leaning Pine: (Paul Hlina) 715-398-5453 Superior WI. Botanist UWS – Lake Superior Research Institute. Native plants and planting design.
L&L Construction: (Jeff) 218-393-8091 siding, roofing, and handyman services. Low cost professional service. Free estimates
M&M Greenhouse: (Marianne Mueller-Alston, Mike Alston) Site prep for plantings, recommendations and native plants
Menards: (Superior WI): 715-395-8440 River Rock, delivered
Sarah Boles: (Cable WI) 715-580- 0270 Planting design and project management and supervision
Superior Landscape Contractors: (Kent Paulson) 218-391-1541 Site prep (digging), planting, some plants available
Tyler's Excavating: (Tyler) 218-260-0417 bulldozing, landscaping, land clearing, driveways, waterlines and more
While not an official business, if you have labor tasks not involving machinery our boat launch monitor Andrew Nelsen (local H.S. student) is a trustworthy and reliable option. 218-452-1760.
Questions or updates on this list to Tom Maas at 218-342-5065 or tw.mass48@gmail.com
WI DNR prepared "fact sheets" for the different project types